Mosquito-borne Disease Prevention
Mosquito News and Updates
Pickaway County has a new Interactive Map for Mosquito Trapping this year. This will allow you to see in real-time where mosquito traps are being placed, and where mosquitoes have tested positive for West Nile. Please note, green circle indicates a trap has been placed in that location and a red circle means the trap at the location has been confirmed for West Nile Virus. See the map here.
PCPH Mosquito Program
Mosquitoes can be found around many households, campgrounds, and parks in Ohio.  It is common for humans to come in contact with mosquitoes in the spring, summer, and early fall in Ohio when going outdoors. There are 59 species of mosquitoes in Ohio.  Some of these mosquitoes are known to spread disease.  Although rare, mosquitoes can spread diseases such as west nile virus, encephalitis and malaria if an infected mosquito bites a human.  Dogs can also get heartworms from bites from infected mosquitoes.
​For the remainder of 2019, PCPH has received funding through the Ohio EPA to help with mosquito surveillance and control activities.  PCPH staff are available to help assist you with questions regarding mosquito prevention, filing complaints regarding mosquito problems in Pickaway County, and reducing mosquito harborage conditions in Pickaway County.  To file complaints or report mosquito problems, please call 740-477-9667 ext. 225.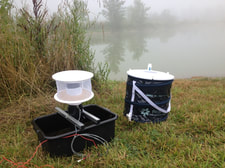 Photo of PCPH's mosquito surveillance traps, if you see these out in your community, please do not disturb, and report problems to our office at 740-477-9667 ext 225